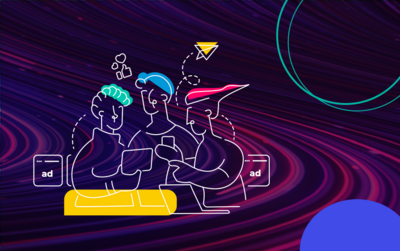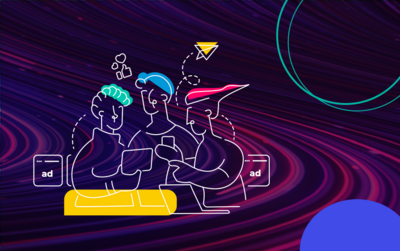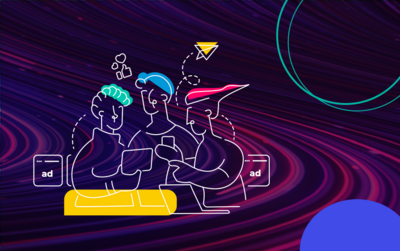 When evaluating ad tech, the question on every marketer's mind is, "What's my ROI?" In other words: "If I invest X number of dollars on a platform, what is my expected return?"
To help you answer this question, Flashtalking has developed a Social ROI calculator. This tool allows you to quantify the benefits across four key value drivers:
Workflow efficiencies: Replacing manual workflow with automation.
Waste reduction: Decreasing or eliminating campaign budget overruns.
Revenue enhancement: Generating incremental revenue by boosting Return on Advertising Spend (ROAS) on performance/conversion campaigns.
Media cost savings: Generating media cost savings through more efficient media buying at lower eCPMs.
From there, our calculator presents the ROI as a ratio of total benefits to the Ad Tech fees associated with the Flashtalking Social platform.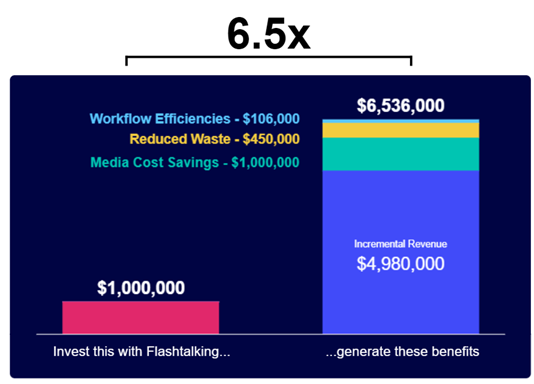 Workflow efficiencies 
Flashtalking Social streamlines workflows across five key activities: Creative Production, Campaign Builds, Trafficking, Reporting, and Optimizing. By consolidating workflows across social platforms, Flashtalking helps you do more with less.
In the example below, your team of four full-time equivalents (FTEs) manages a $25 million social budget. Our Social ROI calculator factors employee compensation and applies an efficiency improvement percentage from a range established by client case studies. In this example, we estimate a 25% combined efficiency improvement, resulting in $104,000 in operational savings, or approximately 1 FTE.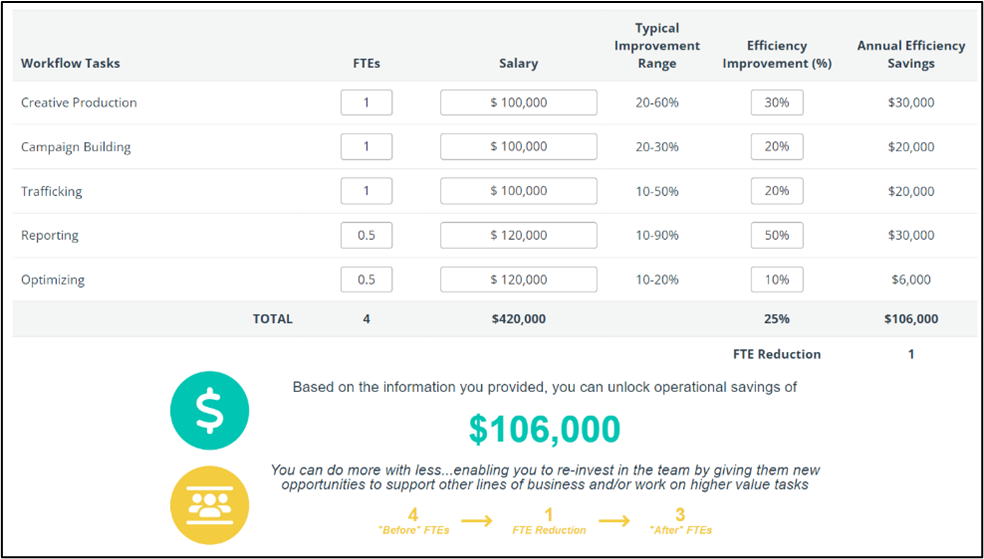 Waste reduction
Waste reduction is a simple business case. Flashtalking Social allows you to implement spending controls to avoid expensive "overruns" and "make goods." In this scenario, assume overruns of $500,000, which is 1% of the total spend. By utilizing controls in the Flashtalking Social platform, these overruns can be reduced by 90-100%, resulting in savings of $450,000-$500,000.

Performance (ROAS) and awareness/reach (eCPM) campaigns
Before evaluating revenue enhancement and media cost savings, you need to allocate budgets across two main categories of paid social campaigns:
Performance/conversion ROAS campaigns
Awareness/reach eCPM campaigns
In the example below, we have allocated the spend equally across the campaigns for the "before" and "after" cases—with and without Flashtalking, respectively.
Revenue enhancement
Revenue enhancement aims to improve campaign performance and generate more revenue, measured by increased ROAS. In Flashtalking Social, there are three impactful tools to boost performance: Creative Personalization, Automated Optimization, and Integrated Measurement.
To calculate the revenue enhancement, compare the respective media costs for the before and after cases.
Before: A $12.5 million budget with a 300% ROAS generates revenue of $37.5 million.  
After: By increasing ROAS by 18%, revenues increase to $42.4 million even when factoring in $500,000 of Flashtalking Ad Tech fees.
The result is a net increase of $4.98 million between the "before" and "after" cases.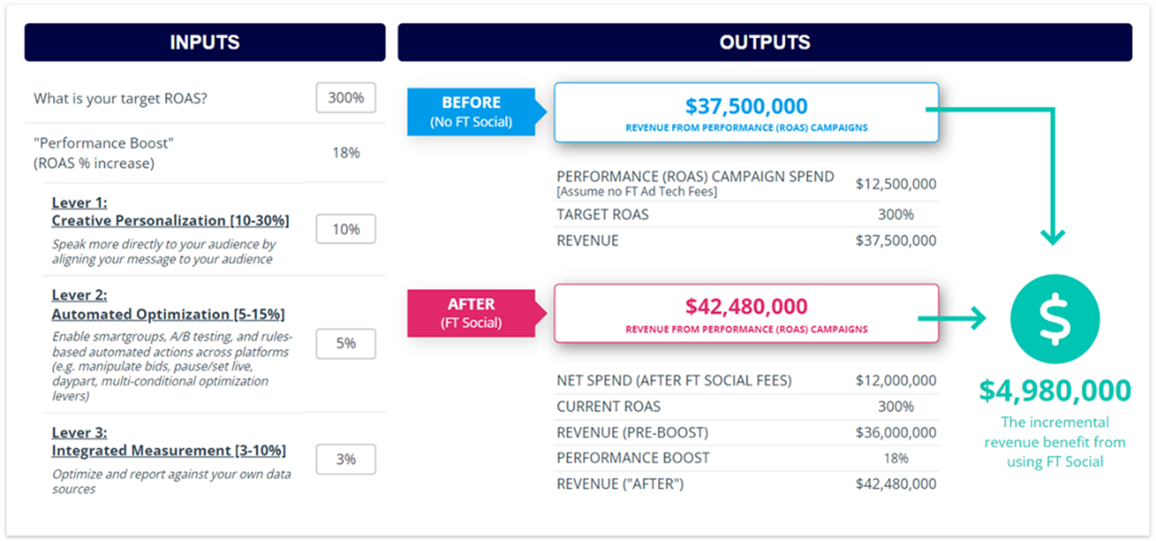 Media cost savings
The Flashtalking Social ROI Calculator outlines four efficiency levers to help achieve media cost savings: Reach/Frequency Optimizer, Audience Distribution, Affinities and Target Sets, and Creative Personalization. By making conservative assumptions, a cumulative 12% decrease in eCPM can be achieved from $5.00 to $4.40.
To calculate media cost savings, compare the respective media costs for the before and after cases.
Before: A $12.5 million budget with a $5.00 CPM buys 2.5 billion impressions.
After: At an eCPM of $4.40, those same 2.5 billion impressions will cost only $11 million.
After reducing the resulting $1.5 million cost savings by $500,000 to account for the Flashtalking Ad Tech fees, the net cost savings equate to $1 million. These dollars can be used to buy new impressions or reinvest in other parts of the business.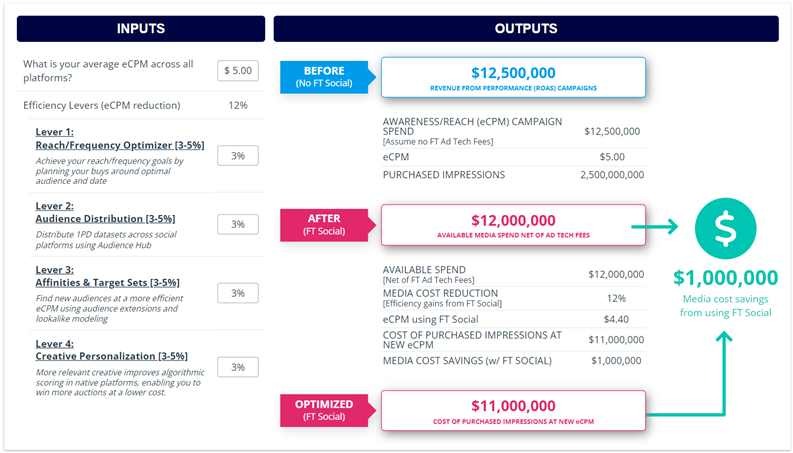 Going deeper: scenario planning
Our Social ROI calculator also includes a scenario planning tool that allows you to adjust your assumptions, all from a single screen. Our goal is to be wholly comprehensive and fully transparent throughout the process so that you can feel confident in the outputs.
Learn more
If you are interested in learning more about Flashtalking Social or any of our omnichannel creative solutions, please reach out to us.