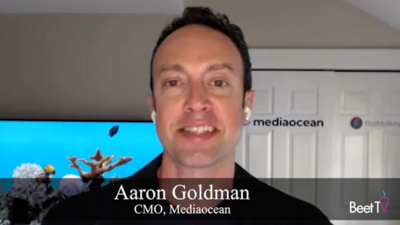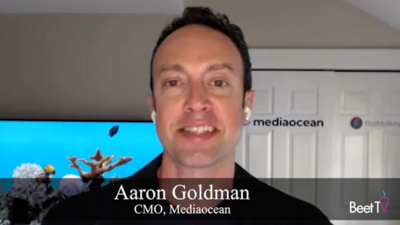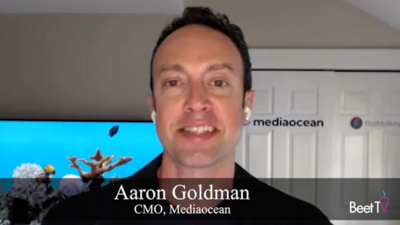 Mediaocean CMO, Aaron Goldman, recently spoke with Rob Williams of Beet.TV to chat all things Flashtalking. Read the transcript of their conversation below.
What did Flashtalking just announce and what does it signal for the industry? 
I'm super excited, we just unveiled new branding for Flashtalking and, as you can see on the closet behind me, we have a sleek new logo that reflects our platform and positioning for a cookieless future. You know, Flashtalking has been around since 2001 so it's one of the OGs in ad tech and over the years we've built out a full stack on top of our dynamic creative optimization engine.  
So we have ad serving with built-in identity resolution and verification—those were acquisitions by Flashtalking of Encore, D9, and Protected Media. And then in 2021 Flashtalking was acquired by Mediaocean and we've integrated it into the Prisma buyer workflow to help bridge the creative and media gap. Mediaocean also acquired 4C, where I came from, and took the platform we had built for social, and that's now rolled up into Flashtalking—so you have open web, CTV, and walled gardens all in one place for ad creation, personalization, activation, measurement, and optimization. 
As for what it signals to the industry, we're seeing that digital advertising and programmatic have reached a point of diminishing returns. We've squeezed all the juice out of audience targeting and bid management so marketers are looking for the next lever to pull to generate incremental lift for their campaigns. And against the backdrop of data deprecation, privacy regulation, antitrust suits, there's a lot of headwinds. 
So as we move ahead into the cookieless world, it's harder to get that precision with your placement and so the way that brands are going to separate themselves is through creative. That's what came out of the research we just ran through TechValidate. Markerters are telling us they've gotten as close as they can to right person, right place, and right time with their ad tech stacks. Now it's about right message and we're at the perfect moment with the rise of generative AI to take creative personalization to the next level. 
From a Flashtalking perspective, we're helping advertisers create thousands of different versions of their ads in seconds, and then plugging directly into the publishers and platforms where they run—that goes for open and closed ecosystems. From there we can iterate and optimize based on what's working best and make those media budgets work harder. We talk about this as unleashing the power of creative in advertising. And our mission is to be the leading independent ad tech platform for creative personalization and relevance across all marketing channels. 
I'm glad you mentioned the research that you recently conducted. What else could you tell us about what you found? Any interesting surprises or any other interesting findings that are informing your product strategy? 
Well, earlier this month we commissioned TechValidate to run a survey of 100 marketers. They spanned 10 different industry verticals and were pretty well split around the globe. I think it was about a third Americas, a third Europe, Middle East, and Africa, and a third Asia Pacific. We asked them what advertising campaign variable had the most potential to drive brand growth and business outcomes in the future. And 65% said creative, something like 19-20% said audiences, and the rest said bidding or bid management. 
So it goes to show that we've hit a ceiling of sorts on targeting and pricing, and now the differentiation is going to come from creative. Which makes sense if you think about the pendulum we've sort of had in the industry. 50-60 years ago, it was the Mad Men era and creative ruled the day. You only had so many TV networks and other media channels to advertise on so what really mattered is what you said in that space. But then with cable and then the internet and then the walled gardens, you had all this fragmentation, and creative and content and context took a back seat to audience targeting and programmatic and bid algorithms. 
And now we've come full circle and creative is back in the driver's seat because we've eked out every last drop of efficiency, and we're losing signals for programmatic audiences so it's back to content and contextual and creative. But we have this gap right now between media and creative—something like 85% of respondents said there's a gap between creative and media execution. And the top 3 reasons they cited were lack of insights and intelligence flowing between platforms—the 2nd was siloed teams and the 3rd was disparate technology. So you can do all the personalization in the world, and create all the various assets to meet consumers in the moment with a relevant message, but if you don't have teams collaborating on a common platform, and that platform is not directly connected to the inventory, then it's all for naught.  
So that's what we're doing with our product at Flashtalking. We've had the creative personalization piece since the beginning but then we built the ad server. And then we folded in Scope by 4C for social and walled gardens and layered in the acquisitions for attribution, verification, etcetera. The idea is to have one central platform as your command center and, importantly, one that's independent and not owned by a media company or walled garden, to make the media work harder for the benefit of the advertiser—and no conflicts of interest there.  
This idea of making media work harder is also something that came out of the research. I think it was 79 or 80% of marketers said they view personalized ads as working media so we're not talking about some separate budget or line item. But when you have creative and media teams working independently, you don't get these economies of scale and it's back to the Mad Men days when Harry Crane in media was always fighting with Don Draper in creative.  
In the show I think there was literally separation and Harry was confined to the basement but over time, in the decades that come after what's portrayed in the show, Media takes on a bigger role and eventually gets spun out of the agencies for buying clout. And then you have separate agencies and separate teams doing media and creative and we're at the point now where we have to bring them back together because you can't win on just buying media and audiences and bidding for the right impressions—the creative matters just as much if not more. 
I think it's interesting how you describe this evolution in media and creative. So now media people, they know how to reach the right audiences, and creatives have an idea of what kind of message resonates with those people. And so if they're working together, how do you see this evolution being shaped over the next few years, what was a gap now coming together?  
Well for one thing, the silos need to come down and the systems need to be integrated. Creative and media teams need to anchor on a common platform with workflow that goes from building assets all the way down to activating them in market—and that goes for all channels. Another big opportunity is with intelligence—don't make the creative teams wait until the campaign is over to get reports they can analyze to see what worked. 
I think something like 90% of marketers in our research said they have blind spots when it comes to creative intelligence. This is where AI and automation come into play—you can have creatives auto-tagged with different labels like product, headline, call-to-action, color, emotion—and all that can be deciphered by AI so it doesn't require manual input. And then the system can isolate the variables as the ads run and automatically make changes to live campaigns to improve results. And importantly, the information is flowing back to the creative and media teams transparently so they can see what's working and use those insights to fuel other aspects of marketing. 
Last year, Flashtalking bought a company called Drishyam AI that does this and it's incredible when you see it in the platform, so as you're going through the process of building creative you can have it all auto-labeled for intelligence and optimization. And it's not a black box like you have with the walled gardens that just does the optimization for you and you don't know why things are happening. Everything is clearly labeled, you can export the insights out of the platform into your data warehouse or whatever other tools you're using. So this type of transparency and integration are things that will help close the gap. 
And from there, it's just a matter of aligning the CMO and CFO around the business case for creative ad tech. Looking at personalized ads as part of working media budgets and holding them accountable to ROI outcomes. That's what we're all about at Flashtalking—unleashing the power of creative to make media work harder, to make it work better, and to just plain make it work.