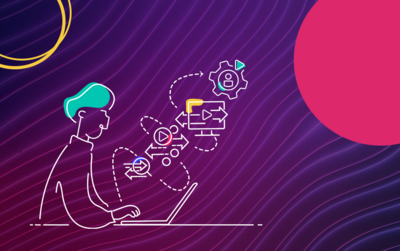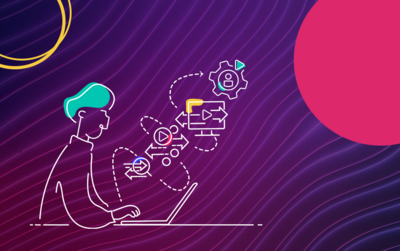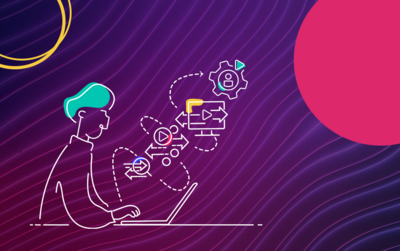 "Is the juice worth the squeeze?" 
This is the most common question about creative personalization. As a marketer, you probably know intuitively that tailoring brand messages to specific audiences will generate better results. Still, you want to quantify the expected return on investment (ROI) for large-scale creative personalization. 
To answer this question, Flashtalking has developed an ROI Calculator for Creative Personalization specifically for open web video and display creative. (We also have one for paid social, but we won't cover that here.) This tool focuses on performance campaigns, where creative personalization improves return on ad spend (ROAS) and generates additional revenue. There is also an offline version of the tool, emphasizing cost reduction for advertisers aiming to lower cost-per-acquisition (CPA). 
As we go through our approach to determining ROI, you will discover two key points: 
Personalized creative has a positive ROI, even when using conservative assumptions. 
Personalized creative is one of the most potent forms of working media available to marketers today. 
The Output 
Our ROI calculator provides a simple and intuitive graph that displays:  
Flashtalking investment: Incremental costs for personalized ad serving. 
Incremental revenue: Additional revenue generated by boosting ROAS in performance/conversion campaigns. 
ROI: Ratio of incremental revenue to the Flashtalking investment. 
We also display all the assumptions you enter along the way and provide a scenario planner at the end where you can make adjustments.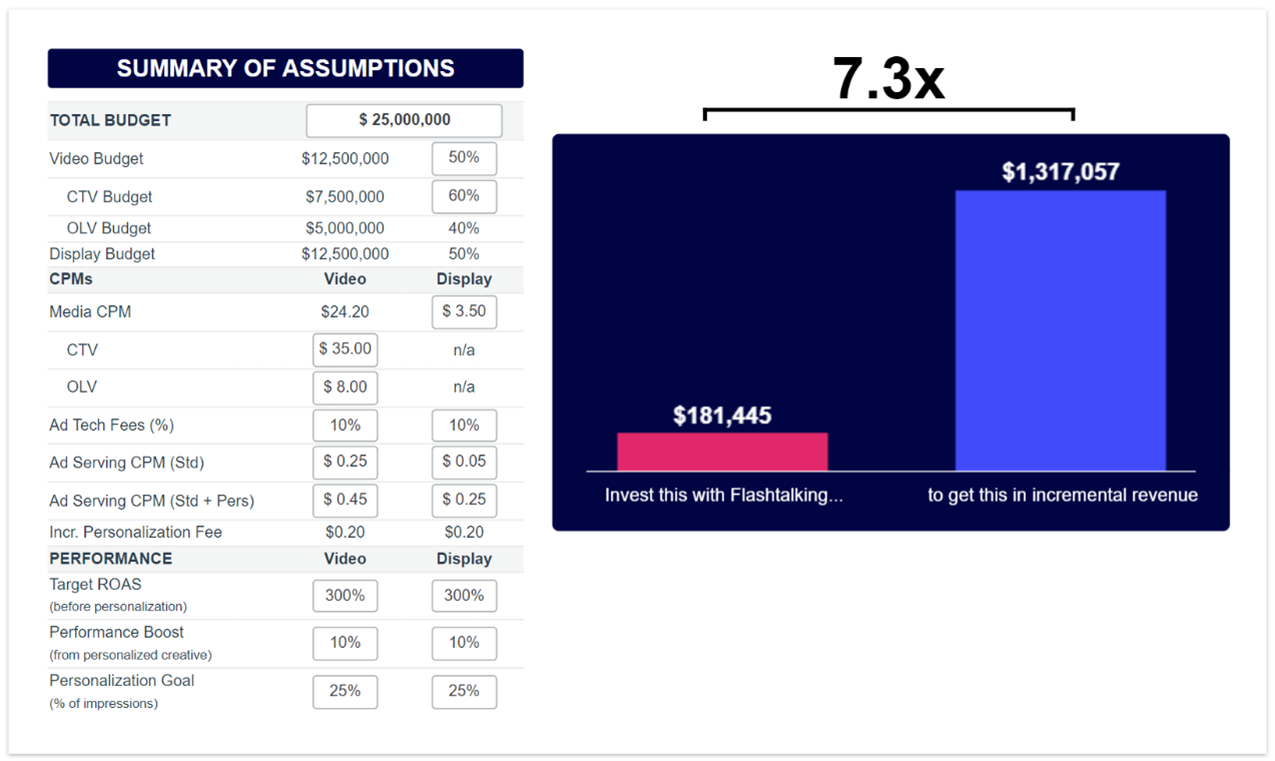 Calculating ROI 
Through a series of input screens and insight dashboards, the tool guides you through the process of calculating ROI intuitively.  
Step 1:  Media Spend and Costs 
The first two screens are where you input your media spend and costs. For this example, a $25 million media budget is split evenly across video and display. Within video, you assume a 60/40 split between CTV and online video (OLV). For the media costs, we ask for: 
Media CPMs for CTV, OLV, and display. 
Ad Tech fees to account for DSP, DMP, verification, and data costs. 
Ad serving fees for both standard and personalized/dynamic ad serving.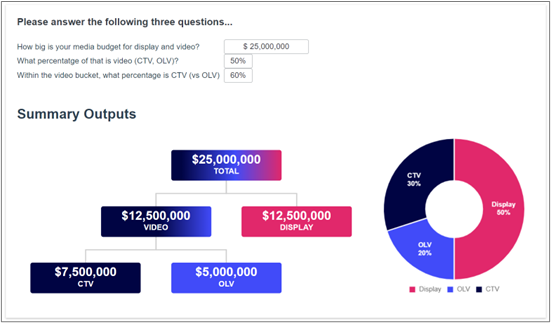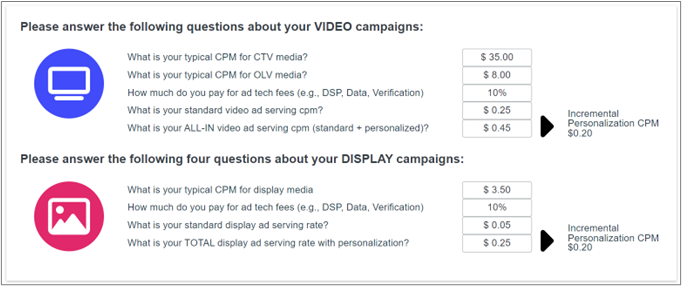 Step 2:  Starting ROAS and Performance Lift 
Next, we need to understand the following to calculate ROI:  
Revenue per thousand (RPM) for standard creative and personalized creative. 
Cost per thousand (CPM) for standard creative and personalized creative. 
The good news is that you already know the CPMs from Step 1. To translate these into RPMs, you need two additional pieces of information: starting ROAS and expected lift for personalized creative. Concerning the latter, it's recommended that you begin conservatively (10%).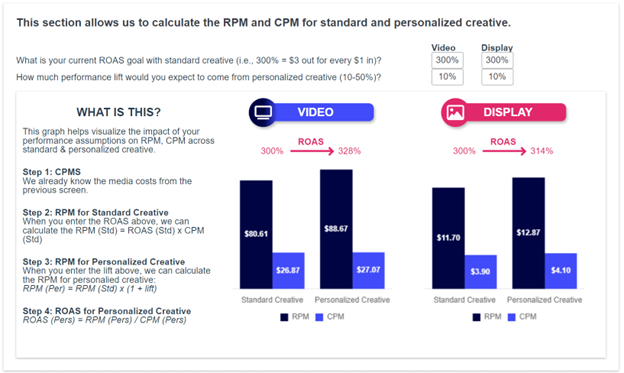 Step 3:  Personalization Goals and "Before"/" After" Impressions 
In setting your personalization goal, we can choose a conservative 25% for both video and display, following our best practice of starting with a few campaigns and using a test-and-learn approach to expand further. 
With this information, the "before" (no personalization) and "after" (25% personalization) scenarios are defined as the basis for comparison in your ROI calculation. For each scenario, you calculate the number of standard and personalized impressions using two substeps. 
Calculate the blended CPMs for each scenario. The media costs are the same for each, except the "before" scenario has only standard ad serving fees while the "after" scenario layers on dynamic ad serving fees (adjusted for the 25% personalized impressions).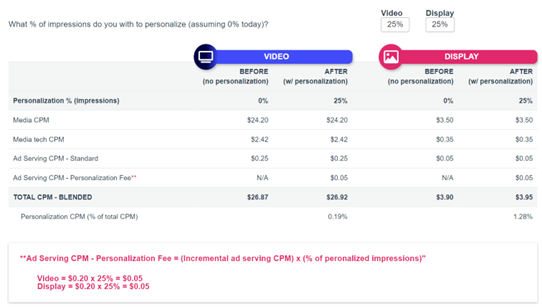 You can use the blended CPMs to calculate the total number of 'before' and 'after' impressions, and the personalization percentages determine the mix of standard and personalized creative.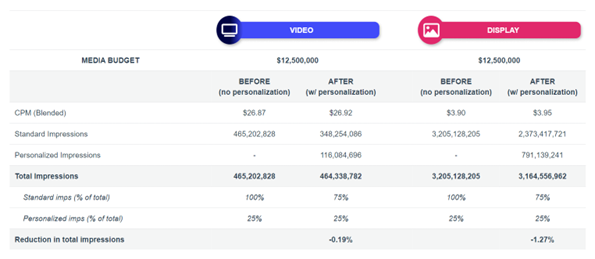 Step 4:  Computing the ROI 
You now have everything you need to compute the ROI. Start with the revenue accounting by combining the "before" and "after" impressions from Step 3 with the RPM figures from Step 2. The result is $1.3M in incremental revenue.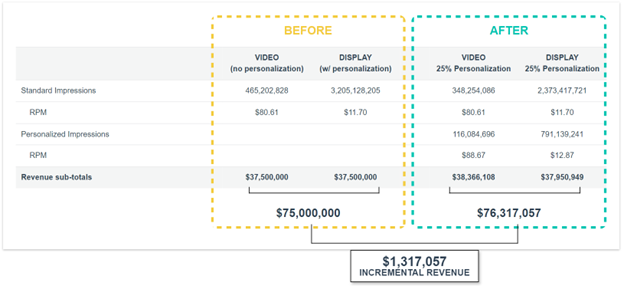 Proceeding to the cost side of the ledger, combine the same "before" and "after" impressions from Step 3 with the CPM figures from Step 2. In this case, the result is $181,000 in incremental revenue. 

Bringing it home, $1.3 million of revenue against $181,000 of personalization costs (i.e., incremental ad serving) generates a 7.3x return. 
Learn more 
Check out our ROI Calculator for Creative Personalization and input your information to get a customized output. If you are interested in learning more about Flashtalking creative personalization or any of our omnichannel creative solutions, please reach out to us.